Buffalo Bills Mesquite Beef Jerky
If BBQ has a universal smell, it has to be the distinctive aroma of meat slowly cooking over mesquite wood. When you bite into a piece of Buffalo Bills Mesquite beef jerky, it might seem like you've been transported to a genuine Texas BBQ joint.

Mesquite is commonly used in Southwest-style cooking and Texas barbecue, because it burns slowly and won't impart a harsh flavor on the meat even after slow roasting for 20+ hours on the barbecue. Mesquite wood imparts a slightly sweet, smoky flavor that is a perfect complement to beef.

The light mesquite smoke flavor in our Country Cut Mesquite jerky doesn't mask the natural meat flavor. We add in the perfect balance of salt, paprika, garlic, and other spices to round out this tasty and satisfying jerky.



Best jerky I've ever had

"This mesquite beef jerky is everything anyone could ever want. Full flavor, actually tastes like beef, unlike some other brands. I fully recommend this product for anyone who would rather not chew the cardboard-like jerky that other vendors sell." – P. Taggart (Amazon reviewer)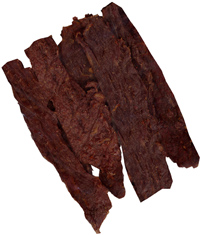 Distinct mesquite flavor in every bite and only 70 calories per serving.
Mesquite Jerky Packs
Buffalo Bills Country Cut Mesquite Beef Jerky is available in 1.75oz, 3.5oz, and 8oz packages, as well as in assorted flavor gift packs.