Buffalo Bills Beef Jerky and Premium Snacks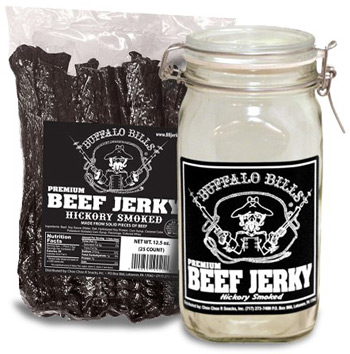 Honest snacks made with real meat and no filler. In all the flavors you love.
That's what you'll find here at Buffalo Bills.
It all started with our premium hickory beef jerky, still our customers' favorite.
We couldn't stop, and our customers couldn't get enough. So today we make more than 70 types of beef jerky and 30 types of beef sticks. Plus we have turkey jerky, venison jerky, elk sticks, ham sticks, turkey sticks, wild boar sticks, and venison sticks.
Prompt Shipping
We ship all orders within 1 business day. We ship to all 50 states and U.S. protectorates, as well as to Puerto Rico and all military addresses (APO, DPO, and FPO).
We stand by our products and love our customers, so you can count on us to provide excellent customer service every time you order.
We accept American Express, Discover, MasterCard, Visa, and all major debit cards.
Thank you for your shopping with Buffalo Bills Premium Snacks!

Attention Amazon Shoppers! If you prefer to use your Amazon
account, click here to purchase our products on Amazon.
Current Sale Items (click here to view all sale items)